From the President
The Jewish New Year and High Holy Days are almost here! As we celebrate the Jewish New Year, I want to recognize how special it is to do so, celebrating the 25th year of Rabbi's Federow's service to the synagogue. Just as important, we are also celebrating that our shul is still here to serve our community. That despite the challenges, the changing demographics, our Jewish diverse community - with members of different ages, beliefs, experiences, and expectations - we are still here!
The Rabbi's Corner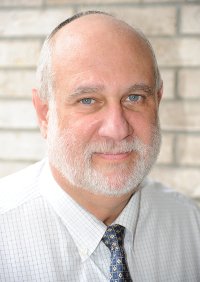 Every September our thoughts turn to the coming Holy Days. In Hebrew, these days are called the 'Yamim HaNora-im,' which means 'the Days of Awe.' Truthfully, this is a great translation. The reason I say so, is that the word Nora-im comes from the same root as the word Yira, which unfortunately some translate as fear. 'Yirat HaShem,' or 'Yirat Shamayim,' is usually understood as the 'fear of Gd.' That is not what it means, as we learn from the meaning of Yamim HaNora-imas the Days of Awe, and not the Days of Fear.
Sisterhood News
On August 19, 2019, the new Sisterhood board convened for its first meeting of the 2019-2020 year (the Sisterhood year is August to July of the next year) at SheillaGoldberg's house. (See the full list of the board below). One of the subjects discussed was planning the year's activities, and what we arrived at is the following (some of which is subject to changes, of course):
Adult Education Activites
Adult Education Classes:
Our Rabbi will be teaching:
"The High Holy Days Season for the Atheist and the Agnostic"
Sunday September 22 at 11am
Social Action
We are still doing Social Action events and have now formed the Greater Clear Lake Interfaith Community Council to help us learn more about ourselves and our various faith communities. This Interfaith Council is an extension of Social Action/Social Justice that came out of our need to learn more about ourselves and our diverse faith communities, where we can support each other as a united front against the anti-Semitism, prejudice, and injustices that seems prevalent these days. We plan to learn more about each other, our faiths, and our traditions as we work together for a better community.
Membership News
We had a wonderful Open House on Aug. 25thand met some new people. Thanks to all who helped make it a success.
Nov. 9ththere will be a Friday night Oneg in honor of anyone who has a birthday or anniversary in Oct., Nov. & Dec. Postcards will be sent out to invite our celebrants.
Debbie Anderson, Chair
There are no upcoming events at this time.
Classes
Lunch with the Rabbi - Tuesdays, 12:00-1:00 pm, Congregation Shaar Hashalom Schwartz Social Hall.
Conversations with Rabbi Stuart - Second Thursday of each month, 7:00 pm, Sawa Restaurant and Grill, 16608 El Camino Real.
Adult Hebrew: From Aleph Bet to Prayers - Taught by Phyllis Greenspan on Wednesdays, 7:00-9:00 pm, starting January 9, 2019. Registration required via email to pgreenhouston@aol.com (see flyer).
All About Judaism - Taught by Rabbi Stuart Federow. Wednesdays, 7:30-9:30 pm, Congregation Shaar Hashalom Schwartz Social Hall.
Judaism in the Home: A Hands-On Approach - Taught by Rabbi Stuart Federow. Everyone is invited to learn more about Shabbat, Havdalah, Holidays, and more. Sponsored by Adult Education, Sundays 11:15 am - 12:15 pm starting Jan 20, 2019.
Israeli Folk Dancing - Taught by Amira Hemme, Mondays - 7:30-9:30 pm
Classes are not held on holidays. Check the calendar for details.
"A Show of Faith", Rabbi Stuart Federow's radio show, 1070 AM (KNTH), Sunday, 7:00 - 9:00 pm.
Sun, September 22 2019
22 Elul 5779
Today's Calendar
---
Friday Night
Friday Night Fire: An Alternative Shabbat Service

: 6:00p
Candle Lighting

: 6:53p
Shabbat Service

: 7:30p
Shabbat Day
Shabbat Service

: 9:30a
Havdalah

: 8:00p
Upcoming Programs & Events
---
This week's Torah portion is

Parshat Nitzavim
Candle Lighting
Havdalah
Motzei Shabbat, Sep 28, 8:00p
Erev Rosh Hashana
View Calendar
Sun, September 22 2019 22 Elul 5779