From the Rabbi
The Rabbi's Corner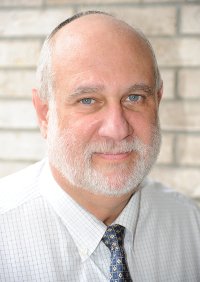 When a person loses a family member, they begin the process of healing their loss. Judaism has a specific way of mourning one's loss, beginning with the funeral, and all of the plans that must go in to that funeral. Psychologists have noted that the Jewish way in mourning is a very healing and beneficial process to go through, to allow for the expression of one's grief, but to also slowly move the mourner back into the new reality of life without their loved one. However, burying one's beloved family member is the beginning of that process, and it is the first time that the mourners will recite the Kaddish, long associated with mourning.
Jewish tradition requires that there be a minyan, a quorum of 10 to recite this prayer. It has been said that the first "amen" heard by the mourner is more important than any other "amen" recited by those who are responding to any prayer or blessing. Why is this true? Because when one responds, Amen!, to a blessing, like the hamotzi for example, it is for the benefit of the one about to eat, or to enjoy what the blessing is all about. However, when one recites the Amen in response to a mourner reciting Kaddish, it is heard by the mourner who understands that he or she is not alone!
If no one attends a funeral, how can the mourners recite the Kaddish? How can the mourners hear that Amen, and know in her or his heart that he or she is not alone?
Please, I know our time is valuable. I know we are busy with all sorts of things and of people and of our jobs who need us. But so do the mourners in the community you are a part of, by being a member of our Congregation Shaar Hashalom! To be a member of a synagogue is to be a part of a community, a community of those who are supposed to be there for each other. It does not matter whether or not you know the deceased, or even the family of the deceased. To be a part of the minyan is a mitzvah, not only in the sense of its a Good Deed, a nice thing to do for someone, but also in the original, literal, real sense that we are commanded by God to be there for others in their times of need.
Now, I don't wish to end on such a sad topic of death and mourning, so let me take this opportunity to wish each of you a Happy Chanukah, and a Happy, Healthy, Prosperous, Successful New secular Year!
Rabbi Stuart Federow
rabbi@shaarhashalom.org
December 2019
Sat, January 18 2020
21 Tevet 5780
Today's Calendar
---
Friday Night
Shabbat Day
Shabbat Service

: 9:30a
Havdalah

: 6:42p
Upcoming Programs & Events
---
This week's Torah portion is

Parshat Shemot
Candle Lighting
Havdalah
Motzei Shabbat, Jan 18, 6:36p
Shabbat Mevarchim
View Calendar
Sat, January 18 2020 21 Tevet 5780