From the Rabbi
The Rabbi's Corner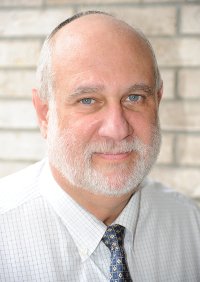 At this time of year there really is one thing I still miss not living in the Northeast as I did during my college years, and that is the beauty of the changing leaves in the Fall which are best seen in October. The contrast between the evergreen and the multicolored leaves is just beautiful.
I also remember in my college days going to the western part of Massachusetts and stopping at roadside booths for very fresh apple cider and other fruits and vegetables of The Fall season.
I also remember a funny looking worm that would inch its way across the streets. By looking at the darkness of its hair, or its length, or something about it that would indicate if the winter was going to be harsh or light, I remember wondering if it was going to be an accurate portrayal of the weather.
Of course I don't miss the harsh winters that the Fall season of the Northeast would precede.
Sometimes what we miss is accompanied by things that we don't miss. Like the harsh winters that accompanied the beautiful Fall. But this is the way our memories work. We tend to remember the good and disregard, or at least try not to think about the bad.
I think we need to also treat other people the same way. See their good points and try as best we can to disregard their bad points.
Judaism teaches us to recognize the Good, Hakarat haTov. We need to see the Good in others, and to try not to assume that we can understand the motivations of others. Truly, if most of the time I cannot understand my own motivations how can I presume to understand someone else's motivations?
If I can remember the good and try to disregard the bad, maybe I can try to do that with other people too!
Rabbi Stuart Federow
rabbi@shaarhashalom.org
October 2019
Mon, October 21 2019
22 Tishrei 5780
Today's Calendar
---
Friday Night
Candle Lighting

: 6:22p
Friday Night Fire Shabbat Services

: 7:00p
Shabbat Day
Shabbat Service

: 9:30a
Havdalah

: 7:29p
Upcoming Programs & Events
---
This week's Torah portion is

Parshat Bereshit
Candle Lighting
Havdalah
Shmini Atzeret & Yizkor
View Calendar
Mon, October 21 2019 22 Tishrei 5780